Souvenirs Price List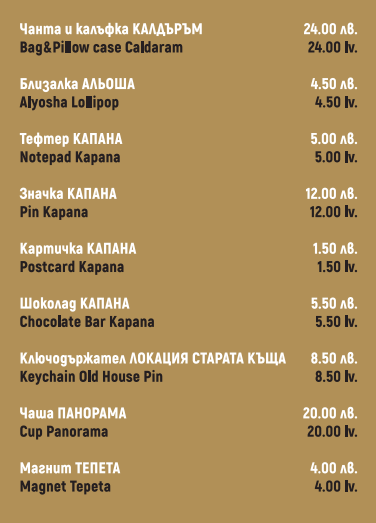 WHERE YOU CAN FIND THE SOUVENIRS
All of the souvenirs from the series Take Away Plovdiv can be found in several locations in Plovdiv city and in one shop in Sofia city.
Take Away Sofia souvenirs were eight prototypes presented at an exhibition. If you would like to purchase a souvenir from the series Take Away Sofia please email us at studiokomplekt@gmail.com and we will let you know if this is possible.
TAKE AWAY PLOVIDV in Plovdiv:
Tourist Information Center ''Roman stadium Square''
1 Rayko Daskalov Str.
Tourist Center Old City ''Visit Plovdiv''
1 Doctor Stoyan Chomakov Str.
artnewscafe
38 Otets Paisiy Str.
Otsreshta
12 Beethoven Str.
Coffee & Gallery Cu29
24 Hristo Dukmendjiev Str
Old Plovdiv Guest House
3 Chetvarti Yanuari Str.
Wunderbaer – Hills Beer Bar & Shop
2 Beethoven Str.
TAKE AWAY PLOVDIV IN SOFIA:
Gifted
24 Ivan Denkoglu Str.